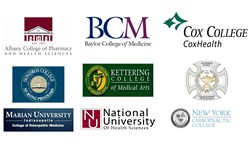 St. Louis, MO (PRWEB) August 06, 2013
Increasing numbers of professional schools in the health sciences are turning to Three Rivers Systems Inc.s disruptive academic enterprise resource planning system to address daunting challenges they face in higher education the company reported today.
While forced to use fewer resources, higher-education institutions such as medical and nursing schools must increase efficiency as they educate the next generation of health-care professionals with the aim of improving student success and patient outcomes.
These schools also must keep up with mounting health-care reform legislation and greater demand for health services for an aging population, all in a recovering economic environment, Three Rivers Systems Inc. VP of Global Sales & Marketing Jami Morshed said. At the same time, they face intense scrutiny from a wide array of accrediting bodies and certification boards demanding proof of quality educational practices and supporting data.
According to American Medical Association President Jeremy A. Lazarus, M.D., rapid changes in health care require a transformation in the way future physicians are trained. In launching Accelerating Change in Medical Education, the groups $ 10-million educational initiative, he added, The AMA is deeply committed to redesigning undergraduate medical education to prepare the medical students of today for the health care of tomorrow.
AMAs initiative seeks to attract and support bold, rigorously evaluated innovations that align medical-student training with the evolving needs of patients, communities and the changing health-care environment.
These kinds of initiatives require effective and proactive strategic planning and flawless execution by higher-education institutions, Morshed added. But you can't address tomorrow's challenges with yesterday's academic management technology.
Morshed believes this is why his companys disruptive academic ERP CAMS